First Impressions Count
If you want to get highest and best price for your home, ideally we suggest to not list the home until it's ready to be shown at it's absolute best. Many times that one buyer who might be willing to pay the highest and best price will be one of the first buyers through the front door, so why leave them disappointed? An excellent first impression may entice them to make a really good offer sooner than later.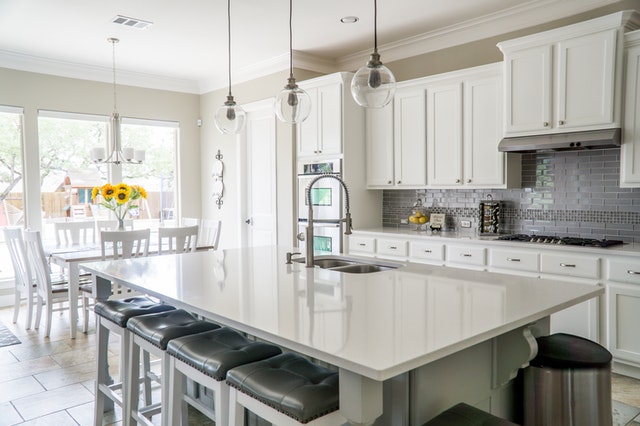 We can help you with suggestions on everything from staging and preparing your home for sale, possible quick and easy improvements you can make that can help you get even more for your home. We can also help you if you are considering help and advice from a professional home decorator or home staging service through our many contacts in those professions. Above all, you should seek neutral and objective opinions from others since most home sellers have an emotional attachment to their home and sometimes can't view the home through an unbiased set of eyes. You want someone who will be trusted to give you an honest opinion and not tell you what you might want to hear.
Consider making the following improvements:
Outside the home
Front entrance - clean and/or paint the front door, house numbers, fresh doormat, fresh potted plants.
Freshen up the landscaping - lawn freshly mowed, landscaping freshly mulched, edged, trimmed and weeded.
Scrub, power wash and repair all walkways, sidewalks, patios, porches, decks and driveways.
Touchup exterior paint - check all trim, windows, shutters, spouting, garages and sheds.
Consider power washing the complete exterior of the home.
Make sure all exterior lighting fixtures are polished, clean and functional.
Declutter garages, sheds, porches, patios and landscaped areas
Inside the home
Declutter and de-personalize the home throughout. Family photos and too much clutter should go.
Remove and store excess furniture. Many homes have too many furnishings - less is always more. If you have to walk sideways or side-step through a room, there is probably too much furniture. Buyers should feel unencumbered and free to move about all of the rooms and hallways.
Check all flooring for stains, steam clean carpeting, stretch any wrinkles or folds.
Repair or replace any flooring as necessary.
Clean and freshen windows, sills, blinds and drapes.
Touch up interior paint. Repair or replace old, damaged wallpaper.
Patch and/or paint damaged woodwork, trim ceilings and walls.
Repair any broken or sticking doors, knobs, handles, light switches and other minor repairs.

Kitchens and bathrooms deserve special attention as follows:

Kitchens and bathrooms can make or break the sale. They should be spotlessly cleaned top to bottom.
All appliances and fixtures should be clean and fully operational.
Repair any and all leaky facets or plumbing fixtures.
Unclutter all countertops and cabinets. Remove refrigerator magnets and any personal items.
Bathroom showers and tub enclosures should be re-caulked and/or re-grouted as needed.
Shower curtains and doors cleaned or replaced as needed.
Fresh towels and linens.
For the Showings
First open draperies and curtains to let in any natural light. Turn on table lamps and overhead lights as needed.
Be strategic with lighting depending on the time of day. You want lots of light, but not too much glaring light. Never, ever leave a room completely dark. Every room should have adequate lighting (but not too much glaring light).
Some lighting can accentuate certain areas of the home such as a den with a fireplace, breakfast nook or bar area. Again, be strategic and set the mood for each room.
Low background music can be good, but lighter, softer rock or pop music is best. TV's should always be turned off.
Air freshener is good, but don't over-do it.
Children and pet should not be present, but if that is impossible they should be outside, if possible.
IMPORTANT: It is absolutely best for no one at all to be home during the showing. Buyers don't feel they can really look at the home or freely talk to their agent when the owner is present. As a seller, you won't get food feedback if the buyer can't say what they want to their agent.